Hear What Our Customers Have to Say
Robyn
Working Mom and Student
"Panda Planner helped me to not only get organized with my day to day to-do lists as a busy, working mom, but it also helped me to set and work on other personal goals, as well. For example, I got my house in order, finished several sewing projects and took a real estate course."
The daily affirmations and morning rituals helped me change my mindset to be more positive and grateful.
I became so organized that I felt that I could take on another challenge and started a real estate course.
I was stagnant and not progressing and doing the minimum, Panda Planner helped me to achieve so much more.
I love the Panda Labs community facebook group - everyone is so supportive and you get so much more than a planner!
---
Coach Ken
Small Business Owner, Uzima Fitness
"Panda Planner has remarkedly changed my business and my life. I've been using Panda Planner for over 3 years. I was getting too confused managing my personal and business life. I now can plan both my personal and business life and they both grew, especially my business. I recommend it to all of my friends!"
The ability to breakdown my 5 year goal into 6 months, monthly, weekly all the way to daily
Creating a morning routine to practice gratitude start the day off centered
Count my wins not focus on loss as much
Customer Reviews
Write a Review
Ask a Question
Filter Reviews:
planner
life
goals
Panda
things
work
everything
track
gratitude
priorities
10/12/2020
GIna D.
United States
Excellent Planner for life and business
Love my Panda Planner! I have the months, weeks and days and it is so helpful to have all in one spot. Helps me to stay organized in my life and my business. So appreciate that there is a spot for daily gratitudes and what I'm excited about. Highly recommend!!
10/11/2020
Brittni H.
United States
2nd buy
This is my second panda pro planner because I just love it. Really helps me get through my job. Ironically enough I work in the mental health care field and this thing has all sorts of positive goals and questions it asks you. Keep up the good work guys! Can't wait to purchase my third. You should also come out with more colors!
10/09/2020
Zac G.
United States
Love my Panda Planner Pro
As a person who struggles with ADHD, my Panda Planner Pro has helped me be more productive than any other time in my adult life. I recommend this planner to anyone who struggles to stay on task. I'm a digital person in a digital age, but there's really nothing that substitutes for the organization and planning that can be done using this planner.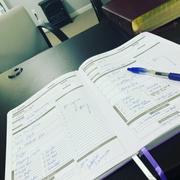 09/29/2020
Luciana B.
United States
The Planner I Needed
Did you know a planner could be this fun? The emails you receive leading up to the moment the planner is on your doorstep are half the experience and I forwarded them to all my friends! From the planner itself to the emails they send (raving about emails? I never thought I'd be looking forward to emails) with information on how to get the most out of your planner are all so well thought out and fun. And Productivity? We're such good friends now thanks to this planner. This planner has you focusing on things you're grateful for, things you're excited about and everything you did well that day. I find myself getting pumped about accomplishing what I need to do just so I can write about that win in my planner. Was this review helpful? How about, 10/10 will order again! Seriously, it's great ;)
09/19/2020
Alicia R.
United States
Awesome planner!
I love Panda planners! I've been using them for over a year now!
Panda Planner Guarantee
With over 400,000 Panda Planners sold, we're confident you'll love it too. Try a Panda today, and if you don't like it for any reason, we'll give you an immediate refund.